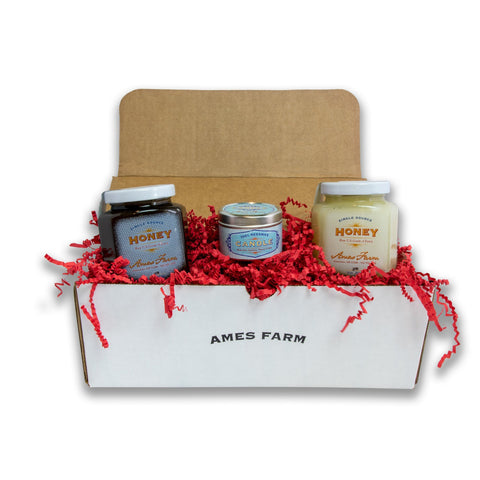 Ames Farm
The Yin & Yang of Honey Gift Set ☯
Fragrant, light Single Source Basswood honey meets earthy, intense Buckwheat honey. These two varieties could not be more different, but also compliment each other surprisingly well. Our legendary Basswood evokes delicate mid-summer blossoms and feminine aromas, while the Buckwheat is dark amber in color and robust with the incense of farm living and organic black dirt. A 100% beeswax candle in a travel tin compliments this unique handcrafted gift set from the heart of central Minnesota.
Please note the option in the menu to substitute Fall Wildflower honey for Buckwheat. Fall Wildflower is rich and savory, but not quite as bold and earthy as the Buckwheat. 
Honey is made from plant nectar, and is a direct product of the land. Beeswax is produced from the bees' bodies in flakes that are used to build comb and capture the incoming liquid gold. This collection is truly a gift from Nature and Ames Farm!  
Contents: 
Basswood Single Source Honey 9 oz glass jar
Buckwheat Honey or Fall Wildflower Single Source Honey 9oz glass jar
Beeswax Travel Candle Tin
Ships in a 100% recyclable box ready to be gifted as shown.