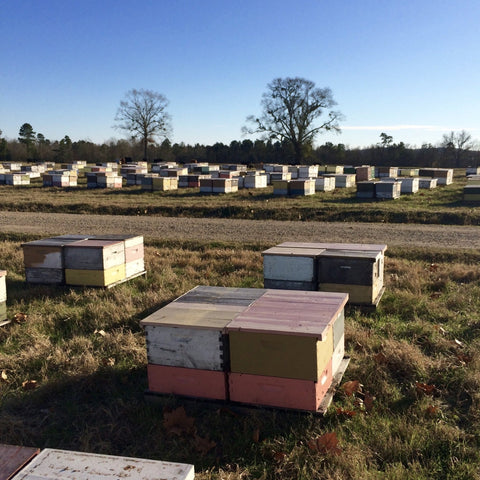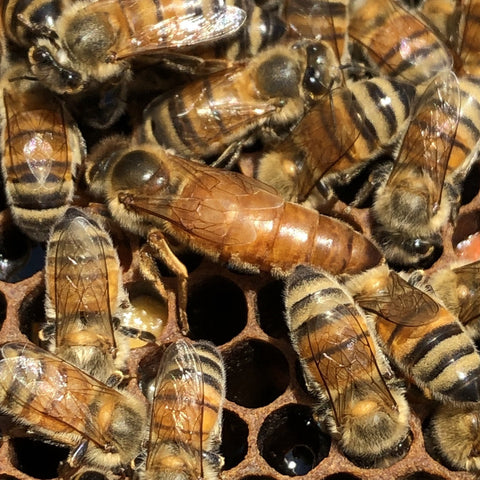 Ames Farm
Bee Nucs Minnesota & East Texas Spring 2023
4/12/23 Spring Nucs for MN & Texas are SOLD OUT! 
If you are in Minnesota we still have late spring nucs with a mid June pickup date  HERE 
VSH Honey Bees for Sale in Mount Enterprise Texas and Watertown Minnesota. Ideal for beginning beekeepers!   
Each nuc contains Four Deep Langstroth style frames of honeybees and capped brood with a new recently mated, laying VSH queen bee and plastic feeder in a recyclable plastic Pro Nuc Box. 
We use breeder queens from our friends at VP Queens that are the main queen breeders of VSH honeybees in the USA. So these are F1 hybrids that express the VSH traits quite well.  
Varroa Sensitive Hygiene (VSH) is a behavior that can be selected for in honeybees where they open capped brood that is infected with mites ending their reproductive cycle 
Our honey bees are inspected by the State of Texas Apiary Inspection Services and we have the proper import and export permits.  
All of our nucs are started with queen cells and will have been laying 4-5 weeks by the time they are available for pickup.
You provide the hive bodies, stand, covers and the skill.
 We do not ship bees, because these are not package bees. You pick the nuc box up from our apiaries in Spring 2023 either near Mt. Enterprise, Texas or Watertown, Minnesota.
Why buy a package of bees and hope the queen eventually lays, when you can buy a nuc that has a laying queen and capped brood? None of these bees will have gone to almonds. They are wintered in East Texas in an area that has no agriculture beyond cow pasture.
Nucs will be made up in TX and mated there during March and April. The cost of each nuc is $185 each in Minnesota and $185 in Texas. A $100 deposit payment option is available with the balance due at pickup.
Use the button menu to select your choice of state and payment option
Texas bee nucs pickup tentative date 4/29/2023
MN bee nucs pickup tentative pickup 5/6/2023
As we get into April, we will confirm by email the exact date, time, and address for pickup
Please note most days the bees are busy flying during the day so pickup is always later in the day at dusk. Contact us by email for special pickup needs.
Warranty: We guarantee a new 2023 laying VSH queen in each nuc and will inspect each one before pick up. If you find you still received a queenless or bad nuc you must contact us within ten days by email webstore@amesfarm.com to get a free replacement queen. No replacements or adjustments are available after ten days. 
If you need to cancel you order, you will receive a refund if you request the cancellation by March 1, 2023 by emailing us at webstore@amesfarm.com. After 03/01/2023 nuc deposits and purchases are not refundable as these are made to order.