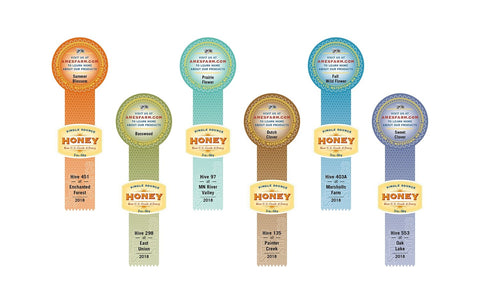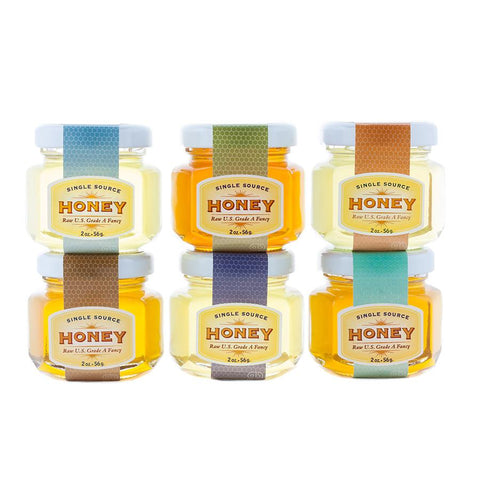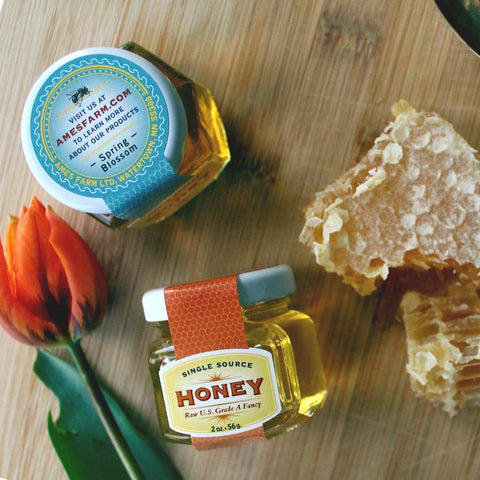 Ames Farm
Classic Honey Favors
Looking for small honey jars to use as honey favors? Our Classic Honey Favors in 2oz jars include our most popular Single Source honeys but discounted for purchase of larger quantities. 

Our small glass honey jars are 2oz of honey and are attractively labeled and have been used for honey wedding favors, showers and corporate gifts or events!

You can choose your selection of Single Source honey and the label color you prefer. 
Please note that the minimum quantity for purchase is 48 jars.
Choose from the 6 floral sources of honey produced in Minnesota below:
Basswood - aka the Linden Tree blooms in early July and yields the most delicate floral and citrus flavor profile and lightest color of pale gold.
Sweet Clover - This is our most popular floral source! Sweet Clover honey is produced in mid summer and has soft vanilla and almond notes.
Prairie Flower - This honey is collected from the prairies of Minnesota. This is a collection of late summer nectar sources and is reminiscent of warm August nights and freshly baled hay.
Summer Blossoms - Our Summer Blossom honey is a winner with everyone! You'll taste floral and herbal notes in this mid summer honey.
Fall Wild Flowers - Looking for something different? Our Fall Wild Flower honey is a rich yet fruity honey with herbal flavors. This is usually a darker colored honey.
Dutch Clover - This is made from all of the little white clover flowers you see in summer. It's a mild caramel flavored honey that's semi-sweet and universally popular!