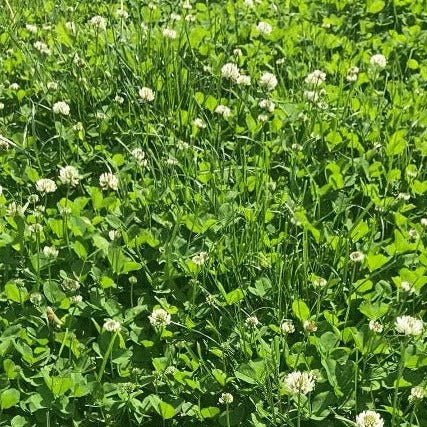 Land for Bees
Dutch Clover Seeds
Dutch clover is the one of the best plants for pollinator friendly lawns. It flowers off and on from mid June until first frost in October in Mn depending on how much moisture we have. It does not grow as tall as the Alsike Clover we offer so it works better mixed in a lawn with grass seed or by itself. 
In Minnesota 57 native species of native bees feed on the nectar and pollen of this clover.
The delicate white flowers provide nectar and pollen during times when native flowers are in short supply. Help save the bees and plant more clover!
All sales from seed purchases go to our Land For Bees initiative to replant and establish pollinator refuges on our land. Read more about Land For Bees here 
Seeding Rate: In general, rates 1/4 - 1/2 lb per 1000 square feet or 8 to 10 lbs per acre are recommended. The ideal seeding depth for dutch clover seeds is approximately 1/4-inch maximum.