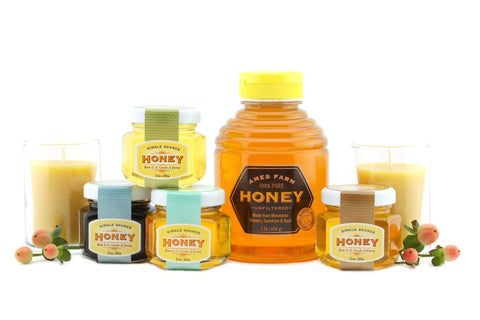 Ames Farm
A First Taste of Honey Gift Set
This collection of bee gifts is designed to introduce some one to a sample of our beekeeping and honey expertise here at Ames Farm. Expect to be amazed by the diverse flavors of our Single Source Honeys and the bright soot free 100% beeswax votive candles. A squeeze container of blended table honey perfect for every day use on the kitchen table rounds out this practical gift bundle. Buy this collection today and save 10% compared to its retail value.
4- 2oz Single Source Jars: Basswood, Buckwheat, Prairie Flower, Dutch Clover
1- 1lb Squeeze Table Honey
2- Beeswax Votive Candles and Holders
Ships in a 100% recyclable box ready to be gifted.