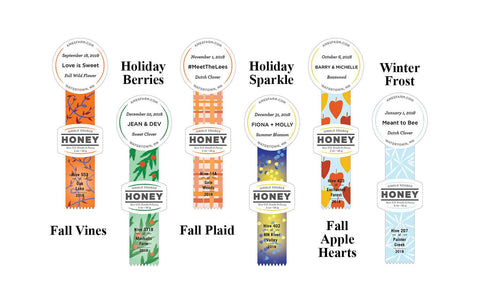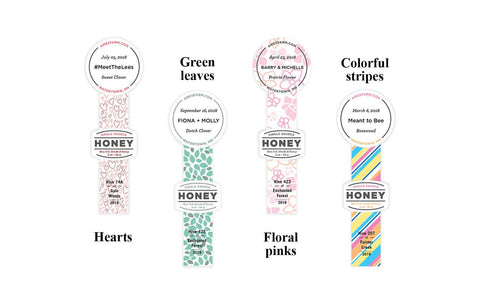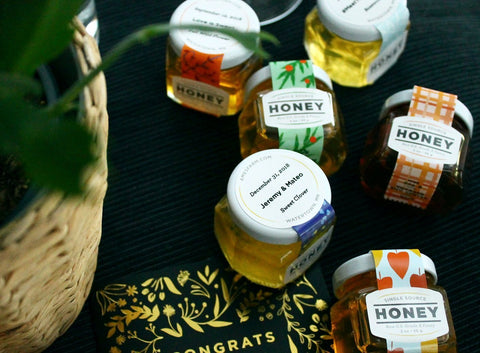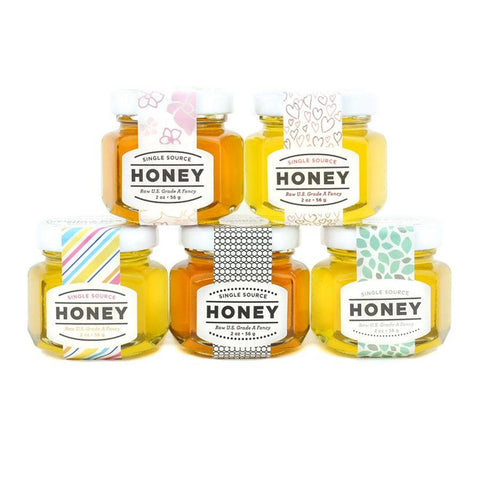 Ames Farm
Seasonal Honey Favors
To obtain a free sample of your custom honey label you selected please call us at 952.955.3348 or email at sales@amesfarm.com
Our seasonal honey favors are ideal as customized corporate gifts, bridal shower party favors and non profit events. Honey favor label designs vary with themes like holiday, spring and romance. The honey is made from our bees at our honey farm in Delano Mn. 
1). Choose your favorite single source honey and then pick the label color design you prefer. Add your event date, names or message in the notes section. We will reach out if there's an issue fitting the information on the label and will work with you to make the best looking label possible.
Please note that the minimum quantity for purchase is 48 jars and we will print *one* set of information on the label. However, you may mix and match the label designs! 
2). Once your order is placed, we will follow up to confirm the specifics of your order, such as the customized message and free shipping. Should you have any other questions you can contact us at webstore@amesfarm.com or call 952.955.3348 at the bee farm in Delano, MN
Choose from the 6 floral sources of honey produced in Minnesota below:
Basswood - aka the Linden Tree blooms in early July and yields the most delicate floral and citrus flavor profile and lightest color of pale gold.
Sweet Clover - This is our most popular floral source! Sweet Clover honey is produced in mid summer and has soft vanilla and almond notes.
Prairie Flower - This honey is collected from the prairies of Minnesota. This is a collection of late summer nectar sources and is reminiscent of warm August nights and freshly baled hay.
Summer Blossoms - Our Summer Blossom honey is a winner with everyone! You'll taste floral and herbal notes in this mid summer honey.
Fall Wild Flowers - Looking for something different? Our Fall Wild Flower honey is a rich yet fruity honey with herbal flavors. This is usually a darker colored honey.
Dutch Clover - This is made from all of the little white clover flowers you see in summer. It's a mild caramel flavored honey that's semi-sweet and universally popular!